Hey, there! Let's work together.
We are growing, and we have some exciting opportunities for you to effect lasting change in Kansas! Check out the open positions below and send in an application if a role feels like a good fit. We'd love to talk to you!
Voter Engagement Director
We are seeking to hire a thoughtful, inquisitive, and talented person to manage The Voter Network's suite of statewide programs, namely our innovative relational turnout initiative Voter to Voter. This role is rooted in relationships and we'll be looking for someone who has a strong track record of working well with people from diverse backgrounds and is also eager to develop strategic grassroots' programs that build collective power.
Read the full job description here.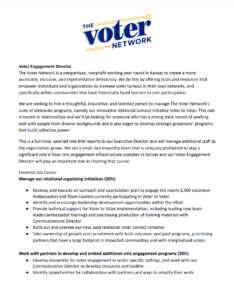 Interested in applying? 
To apply, please send a short cover letter that shares why you are interested in this position, and your resume, to contact@es.thevoternetwork.org. We will accept resumes until July 31, 2023 or until the position is filled! 
NOTE: This is a Director-level role, but we anticipate having additional positions open in 2023. If you don't have management experience but are interested in other opportunities at The Voter Network, please send your resume and cover letter to the same email address above, but with the subject line "General Interest."
The Voter Network is an equal opportunity employer and we are committed to creating an inclusive atmosphere. The Voter Network prohibits discrimination based on race, color, religion, sexual orientation, gender identity/expression, national origin, political affiliation, marital status, disability, genetic information, age, or military status.